FAQs
WHY A VACUUM SOLAR SYSTEM
Why get an Evacuate tube solar hot water system?
It will save you money and help the environment.
Installing a North Solar hot water system has great benefits especially when replacing a storage tank system. It will reduce electricity  and gas consumption, running costs and environmental impact by over 60%.
If you use an electric hot water system, close to half of your average households usage is used for heating water.  A solar water heater system can potentially reduce the overall electricity use by over a quarter of total electricity usage.
When using gas to heat water in a storage tank, the water is being heated 2/3 of the day for no benefit. A North Solar hot water system will be warmed by the sun for free.
Most Australian electricity is generated using non renewable coal fired power stations. They also produce carbon dioxide, ash, and wasted heat, while using large quantities of water and non renewable coal.
North Solar hot water systems reduce the need for electricity and gas and are 100% sustainable and renewable
Why are North Solar systems so cheap?
North Solar systems are exceptional value, not cheap.
Our Solar Hot Water Units are of high quality originally designed to service boutique developers in central Melbourne,
We now distribute Nationally with a wholesale business model.
We are very confident of the quality of our products, and our service is exceptional.
Our NS-300 (and NS-200) SHWS were originally sourced from an OEM who supply a large European Solar Hot Water System distributor (including Germany).
Since our initial production they have accommodated our ODM requirements as we have done independent research, development and improvements for Australian conditions.
We are consistently designing, engineering and improving all our product here in Melbourne, Australia for our conditions Nation wide.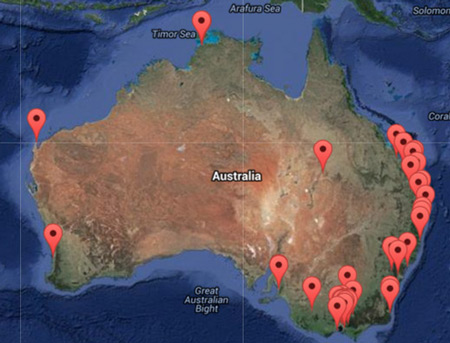 We live in a frost prone area, how do these cope?
Exceptionally well.
Evacuated tube solar hot water systems are perfectly suited to frost prone areas as they are not effected by ambient temperature.
We have systems in alpine regions of Victoria including Mansfield, as well as Mount Macedon. We have done 'Real' testing at Mount Buller in midst of winter.
We have tested the tubes at Mt Buller in temperatures between 0 to -10 over 3 nights. The tubes were not effected by the temperature and held water temperature between 19degC>61degC>16degC.
The tubes were not part of a tank system. This was done to increase the vulnerability of the tubes and integrity of the tests.
So frost is not an issue in our systems.

In every test and with every install our results have been well above expectations.
We have clients who have put glycol in the systems at a ratio of 40L/200L, but we do not have any research based evidence that this has any real benefit.
VACUUM TUBES
Are the evacuated tubes made of Pyrex?
Pyrex is a brand name, it is renowned as having 'tough glass qualities.'
Our tubes are not 'Pyrex' brand, however they are composed with the same materials giving them extreme strength and toughness.
Tubes are 25mm hail rated and we have tested them against rocks, cricket balls branches to name a few.
They are very tough but if you hit them a few times with a hammer they will break. In the last 3 years I have only had six tubes ordered for replacement, one was construction damage (they dropped a cement building block on it) and the other one was a tube being dropped from a roof in the installation process along with some as spares in cyclone prone areas.
FREIGHT
Do you deliver Nationally
North Solar has partnered with BlueStar logistics to deliver our products all around Australia, form locally in Victoria to as far as Exmouth and Darwin.
We also freight spare parts including the fragile vacuum tubes. Ideally you want to order tubes in lots of 10 as they are more economical and travel better in our custom made cartons.
When freighting tubes, we build individual timber crates and the tubes are placed in specially designed styrofoam for ultimate protection.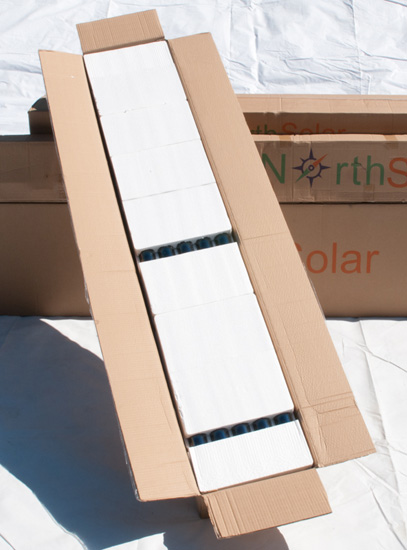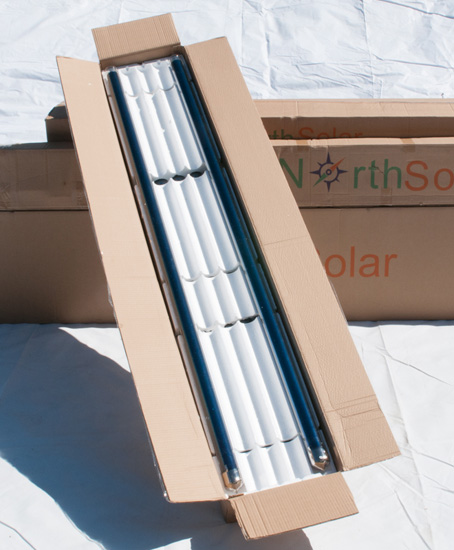 What is the cost for delivery?
Freight cost vary around Australia – Please contact us for a current quote as freight prices change regularly.
We generally do depot to depot delivery due to the fragile nature of the tubes.
Using this process we have not had breakage in several years.
The system fits easily on a 6×4 trailer and the freight depot can load the crate with a forklift.
NS-200 example cost:
$75 – Melbourne Metro and surrounds: FRAGILE FREIGHT guaranteed
$179 – NSW: Sydney (Erskine Park 2759)
$370 – NSW: Batemans Bay 2536
$329 – NSW: Orange 2800
$217 – ACT: Fyshwick 2609
$386 – WA: Perth (Kewdale 6105)
$703 – WA: Exmouth 6707
$179 – SA: Adelaide (Green Fields 5107)
$245 – QLD: Brisbane (Acacia Ridge 4110)
$512 – QLD: Mt Isa 4825
$512 – QLD: Rockhampton (KAWANA 4701)
$413 – QLD: Bundaberg 4670
$528 – Darwin 0800
$406 – Hobart 7000
NS-300 example cost:
$125 – Melbourne Metro and surrounds: FRAGILE FREIGHT guaranteed
$217 – NSW: Sydney (Erskine Park 2759)
$496 – NSW: Batemans Bay 2536
$446 – NSW: Orange 2800
$270 – ACT: Fyshwick 2609
$524 – WA: Perth (Kewdale 6105)
$976 – WA: Exmouth 6707
$222 – SA: Adelaide (Green Fields 5107)
$315 – QLD: Brisbane (Acacia Ridge 4110)
$714 – QLD: Mt Isa 4825
$714 – QLD: Rockhampton (KAWANA 4701)
$564 – QLD: Bundaberg 4670
$745 – Darwin 0800
$551 – Hobart 7000
DIMENSIONS
What are the dimensions of your systems?
NS-300WB
1x 260cm x50cm x 50cm (39kg) – 300L Stainless Steel Solar Hot Water Tank
3x 186cm x 35cm x 16cm (20kg) – 10 x 3 (30) Evacuated Vacuum Tubes – High efficiency 92%-94%
1x 245cm x 15cm x12cm (10.2kg) – Stand/frame
1x 26cm x 21cm x 21 cm (2kg) – Header tank
Total m3 dimensions:
260cm x 90cm x 60cm
Total 130 kg
Wet weight ~530 kg
Foot print:
Flat roof: 2450×1650
Pitched roof: 2450×1900
======================
NS-200C/200WB
1x 180cm x50cm x 50cm (29kg) – 200L Stainless Steel Solar Hot Water Tank
2x 186cm x 35cm x 16cm (40kg) – 10 x 2 (20) Evacuated Vacuum Tubes – High efficiency 92%-94%
1x 180cm x 25m x11cm (6.7kg) – Stand/frame
1x 26cm x 21cm x 21 cm (2kg/) – Header tank
Total m3 dimensions:
190cm x 90cm x 60cm +
1x 26cm x 21cm x 21 cm (2kg) – Header tank
Total 80 kg
Wet weight ~358 kg
Foot print:
Flat roof: 1650×1650
Pitched roof: 1650×1900
======================
NS-80 Mini TBC
1x 150cm x50cm x 50cm (18kg) – 80L Stainless Steel Solar Hot Water Tank
1x 150cm x 320m x 120m (40kg) – 12 x 1 (12) Evacuated Vacuum Tubes – High efficiency 92%-94%
1x 1500cm x 25m x11cm (6.7kg) – Stand/frame
1x 26cm x 21cm x 21 cm (2kg/) – Header tank
Total m3 dimensions:
170cm x 90cm x 60cm +
1x 26cm x 21cm x 21 cm (2kg) – Header tank
Total 50 kg
Wet weight ~200 kg
Foot print:
Flat roof: 1650×1650
Pitched roof: 1650×1900
======================
Are all your hot water systems low pressure or do you do a mains pressure roof mounted evacuated tube system.
Our systems are classified as low pressure as the main tank containing the heating medium (normally water) is fully vented.
The heating mechanism is a copper heat exchanger which is designed to handle up to and over 2000kPa.
With our systems you get the best of both low pressure efficiency (tubes are 92-94% efficient) as well water pressure equivalent to the input source.
BOOSTING
Can I run this alone without the need for gas or electricity as backup?
Can I run this alone without the need for gas or electricity as backup?
Cheers Anthony.
Hi Anthony,
Yes, you can run it as a standalone, however depending where you are and how much sun there is will determine if you have enough hot water.
Normally the system produces enough hot water for 80-90% of the time. In Vic, NSW.
Over winter when it is rainy and cloudy you may want some boosting from another source.
At the moment our tanks are holding between 30-65 deg (July 2017).
This year has been the coldest (in Infra Red transmission/absorbance) in about five years and we have had feedback that there are occasions that the solar water is not hot up to expectations for hot showers hence requiring boosting. We too have experienced this along with areas of inland NSW.
What boosting options are there?
There are a couple of different options for boosting with this model NS-200 CLASSIC SHWS.
1. Purchase a 25 or 50L electric HWS like a Rinnai Hotflo 25/50 (or similar) and you plumb the SHWS hot OUT to the Hotflo cold IN, effectively running solar hot water from the solar through the Hotflo. If the water from the SHWS is below 50 deg, the electric will kick in and boost it to temperature.
This is a simple and cost effective way of boosting as the Hotflo can plug directly into any 10amp electric powerpoint and only requires minimal plumbing.
2. Gas boosting – plumbing the SHWS to a Rinnai Infinity (or similar, mains or LPG) instant gas hot water system (IGHWS)
– Mains COLD to SHWS IN
– HOT SHWS to cold IGHWS
When the water running through the IGHWS is below 50 deg it will kick in too boost it.
1. is cheaper to install
2. is cheaper over long term
Cost to install varies.
From general feedback installation ranges around $1000 – $1500.
This cost will differ;
– how much is pre-assembled
– installed
– electric/gas
– one storey or more
– NS Installation kit or plumber kits it out.
The NS200WB has an inbuilt electric element option which only requires electrician wiring to a 10amp outlet, it also has inputs to use with a wet-back or retrofit flue (NS-WF1K) which can attach to a combustion heater effectively heating the SHWS when the stove is burning.
Can you use a gas or electric booster with your SHWS
Our solar hot water systems are designed to work with both gas and electric boosters.
They do not have inbuilt electric boosters as we found these very inefficient and expensive to run.
The most cost effective boosters in areas with mains gas are continuous gas hot water systems like the 'Rinnai Infinity' .
Gas Boost
What is the Booster?
The booster is simply a backstop to make sure you always have hot water available, such as during cloudy or rainy weather or during the winter months. It also operates should you exhaust the stored water on those occasions when an extra family stays for a weekend!
• The in-line gas booster detects the temperature of the solar pre-heated water from the cylinder. Gas boosting automatically operates, only when necessary to maintain full delivery temperature
• Regardless of whether your hot water is used in the mornings or evenings, gas boosting is the most efficient, convenient and cost effective boost option Gas boosters operate only on demand and have the additional benefit of never running out of hot water
Quoted form the Rinnai 'Hot Water Reference Guide'
LPG versions of these style of units are also exceptional as our SHWS need very little boosting.
You can also run our units in sets of two or three for more hot water and less boosting. These style of configurations are ideal for commercial purposes like restaurants, caravan parks and laundromats which use most of its hot water during the day.
And yes, we have provided commercial businesses including restaurants, caravan parks and laundromats with their Solar Hot Water Systems around Australia.
How do you connect it to an existing system?
TECHNICAL
Header tank – Float Valve vs 'Solar panel and solenoid' header tank
Hi. I have a solar hot water system that uses the solar auto fill. It has never really worked properly. How easy is it to retrofit this header tank to my system? Mine is from xxx brand solar.
Thanks ben.
Hi Ben,
We have sold quite a few of our float valve systems to replace the solenoid/solar panel systems.
Assuming it is a 1/2″ BSP fitting, it is a straight changeover.

The only variables I am aware off is if the fitting is too deep in the main tank, if this is the case, it just requires a 1/2″-1/2″ coupler.
Our stainless steel tanks and float valve have a significantly longer lifespan and reliability. We have an original header tanks on our R&D system which is over five years old, still works perfectly.
Our systems have been engineered for minimal maintenance and long lifespan, hence we have stayed with a traditional float valve component after many months of comparisons and testing.
NorthSolar
A tube is different colour, why?
I saw a similar unit installed on a roof and one of the tubes was a different colour, like the black material in the tube had broken up, what is the black material, does this happen often?
The black material is a black heat (Infra Red) absorbent compound with a silver inside.
What you are describing is a faulty tube, this happens when the vacuum in the tube is broken, the tube will most commonly turn a milky white.
At this stage the tube no longer absorb heat efficiently.
We haven't experience the black material cracking up in our tubes, but our tubes are specifically manufactured for us.
Our tubes very rarely experience failure as they are inspected before they leave our warehouse (yes, every box is inspected by a real person in our warehouse in Wallan Australia).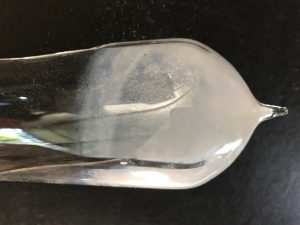 RETROFIT
What are the advantages of vacuum tubes over solar panels
Advantage of Evacuated Tube Solar Collector based systems over Solar Panel Collectors:
Larger surface area exposed to the sun at any time due to round structure
Efficient in heat absorbance: 50%
Frost tolerant and can be used in sub-zero temperatures
Strong and durable with 25mm hail rating
Provide excellent performance in overcast conditions
Require a smaller roof area than comparable flat plate collectors
Install with pressurised storage tanks
Replace flat panels
Modular
Included in Kit
30 Copper pipe Evacuated Tubes
2300mm Manifold Collector
Aluminium Channelled Stand
All systems are Certified and Registered to comply with WaterMark and Australian Standards
Specifications
Heat pipe: T2 copper, top size D14x1mm, body size D8x0.7mm
Highly efficient absorption
High performance – efficiency 50%
Fast heat pipe transfer
Pressure rated over 600kPa (6 bar)
Mains water or pump pressure
No water inside evacuated tubes
Solar water heater can still work even with tubes breakage
High efficiency insulation with polyurethane foam
15+ year service life
Frost resistant
Can you retrofit Solar Flat Panels with vacuum tubes?
Yes.
Retrofitting a two panel Flat Solar panels is very straight forward and virtually the same size as our NS-SC30P pressurised Solar collector.
EDWARDS – Retrofit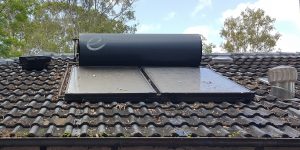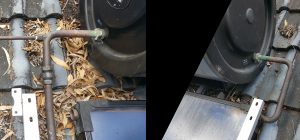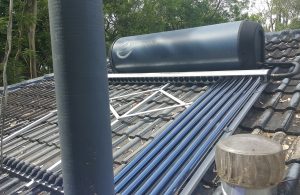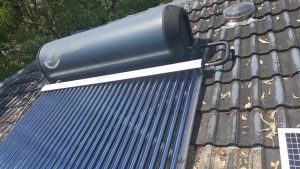 RHEEM – Retrofit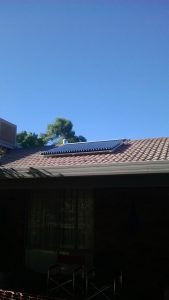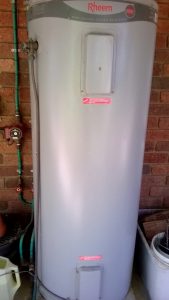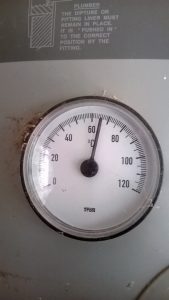 The best products. North Solar Hot Water systems are made with food grade stainless steel with 99.9% copper heat exchange unit Ph 0435 016 869 for enquiries and orders.